6 Reasons to Take a Mountain Bike Skills Course in Colorado
6 Reasons to Take a Mountain Bike Skills Course in Colorado
---
Summit County is home to some of the best mountain biking in the state of Colorado. Hundreds of miles of single-track weave across the mountains and through the valleys from Keystone, Dillon, and Silverthorne to Frisco and Breckenridge, and even down the slopes of Copper Mountain. Few places offer more miles of prime mountain bike trails, and it's a dreamy place to ride whether you're a complete beginner or seasoned pro.
Whether you're new to mountain biking or you've got miles of single-track under your belt, it never hurts to practice the fundamentals and learn some new skills to progress on the bike. For new riders, the trails can be intimidating. With a little bike-handling knowledge and some confidence-inspiring skills, you'll find yourself flowing through berms and bumps with ease. But the basics aren't just for beginners. Experienced riders can often find the keys to progression by returning to foundational skills. One of the best ways to do this is through a mountain bike skills course led by a killer guiding company. These are our top 6 reasons to take a mountain bike skills course, so read on if you're curious about jumping into the world of MTB or looking to progress as a rider.
#1 Learn Mountain Bike Basics
Being a beginner is awesome. It presents a fun, new challenge to get excited about and the sky's the limit when it comes to progression. But, as with any outdoor sport, it's tough to get started without some basic knowledge. That's when a beginner bike course can be extremely helpful to get you out on the trails. Modern bikes are complex and many of the components will feel alien to new riders, and that's okay! We're here to help you know your way around your bike so that you understand the basic components.
There's a lot to learn when you're new to the world of mountain biking, and we want to make sure you're aware of more than just how to pedal. Along with riding skills, a course can teach new riders basics like trail etiquette as well as how to give your bike a good inspection before heading out on a ride.
It's also helpful to know proper body positioning and to gain a general awareness on the bike. YouTube will only get you so far. Having a certified instructor to help you learn these skills on the dirt will allow you to get feedback from a professional and let the information soak in better as you practice. Where should I place my foot on the pedal? When should I shift into a lower or higher gear? How should I balance my weight on the bike? These are common questions for beginners and a course will not just tell you the answers, but show you how and allow you to practice.
---
#2 Gain Confidence on the Trails
Maybe you're totally new to the sport and you're nervous to hop on the bike for the first time. Or perhaps you've been at it for a while and find yourself stuck and in need of some extra encouragement to ride tougher trails. Either way, a skills course will help you gain or rebuild confidence on your bike.
For new riders, practicing the fundamentals with an experienced guide will allow you to learn valuable tips and tricks when starting out. Then, instead of having to learn all this the hard way, you can hit the trails with some familiarity of your bike and how to ride it with ease.
A course can also be useful for learning skills like basic on-trail bike repair. These are the sort of things that make you a more well-rounded and self-sufficient rider so that you have the confidence to get farther out on the trails knowing you can get yourself back even with a dreaded mechanical.
---
#3 Level Up Your Riding
Skills courses aren't just for beginners. If you've been biking for a while but find that you're not progressing as much as you'd like, an instructor can be very helpful in pointing out the areas where you can improve to level up your riding. Oftentimes, this means getting back to some basics in order to relearn skills or break bad habits. But, it's also about learning new and more advanced skills so that you can start riding better and feel comfortable on more challenging terrain. Having trouble taking that corner faster, rolling over that rock garden or into that drop? A skills course just might unlock the secrets to sending.
---
#4 Break Bad Habits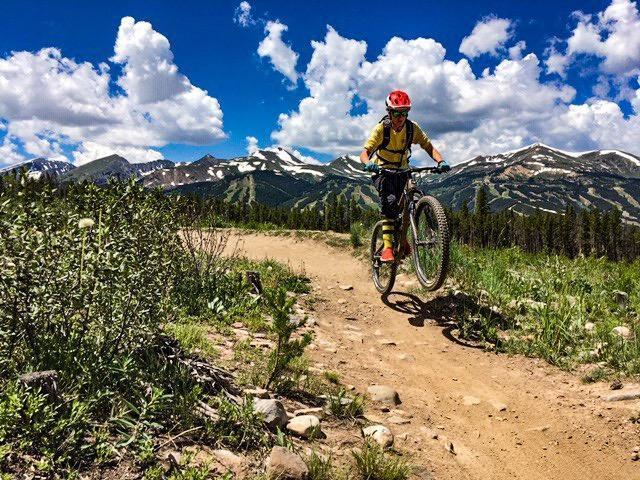 If you're a new rider, why develop bad habits when you could learn the right way from the get go? Getting instruction will help to nip bad habits in the bud as you're learning to flow on the trails. And whether we learned from pros or taught ourselves, any rider can develop bad habits. An instructor can help by observing your riding and pointing out areas where you're stuck using the wrong technique, and then allowing you to practice to rebuild good habits.
---
#5 Discover New Trails in Summit County
When you get out on a skills course with Colorado Adventure Guides, you're getting more than an instructor—you're also getting a guide. You may find yourself on fun new trails that you've never ridden before, even in your own backyard. And we all know how fun it is to discover new single-track to ride. Resources like TrailForks and MTB Project are great, but nothing's as good as a local guide showing you some awesome spots.
---
#6: Meet New Biking Buddies
A skills course is a great way to jump-start your riding abilities, or catapult you into new skills. And chances are, the people in the course with you are there for the same reasons: to progress and have fun on bikes. Taking a course allows you to get to know other like-minded bikers, and you may just find some new riding partners to help encourage and fuel your progression long after the course is over.
---
At Colorado Adventure Guides, we offer a few different options for instructional mountain bike courses.
Intro to Mountain Biking Course
This course is designed for folks who are new to the beautiful sport of mountain biking. If you've had little to no experience on a mountain bike, our instructors will show you the fundamentals of riding the trails so you'll have the confidence to get out there for some fun on your own. We'll cover things like basic bike awareness, offer some skills practice, and then we'll hit the trails to put those newly minted skills to work.
Intermediate Mountain Biking Course
If you've been riding for a while and you're ready to take it to the next level, this course will give you the tools to do just that. You'll work on skills like cornering and small drops, and practice riding some spicy technical stuff, too. On top of that, our intermediate courses cover things like basic on-trail bike repair and how to dial in your suspension to maximize your bike's potential—all things that will help you have more fun out on the trails.