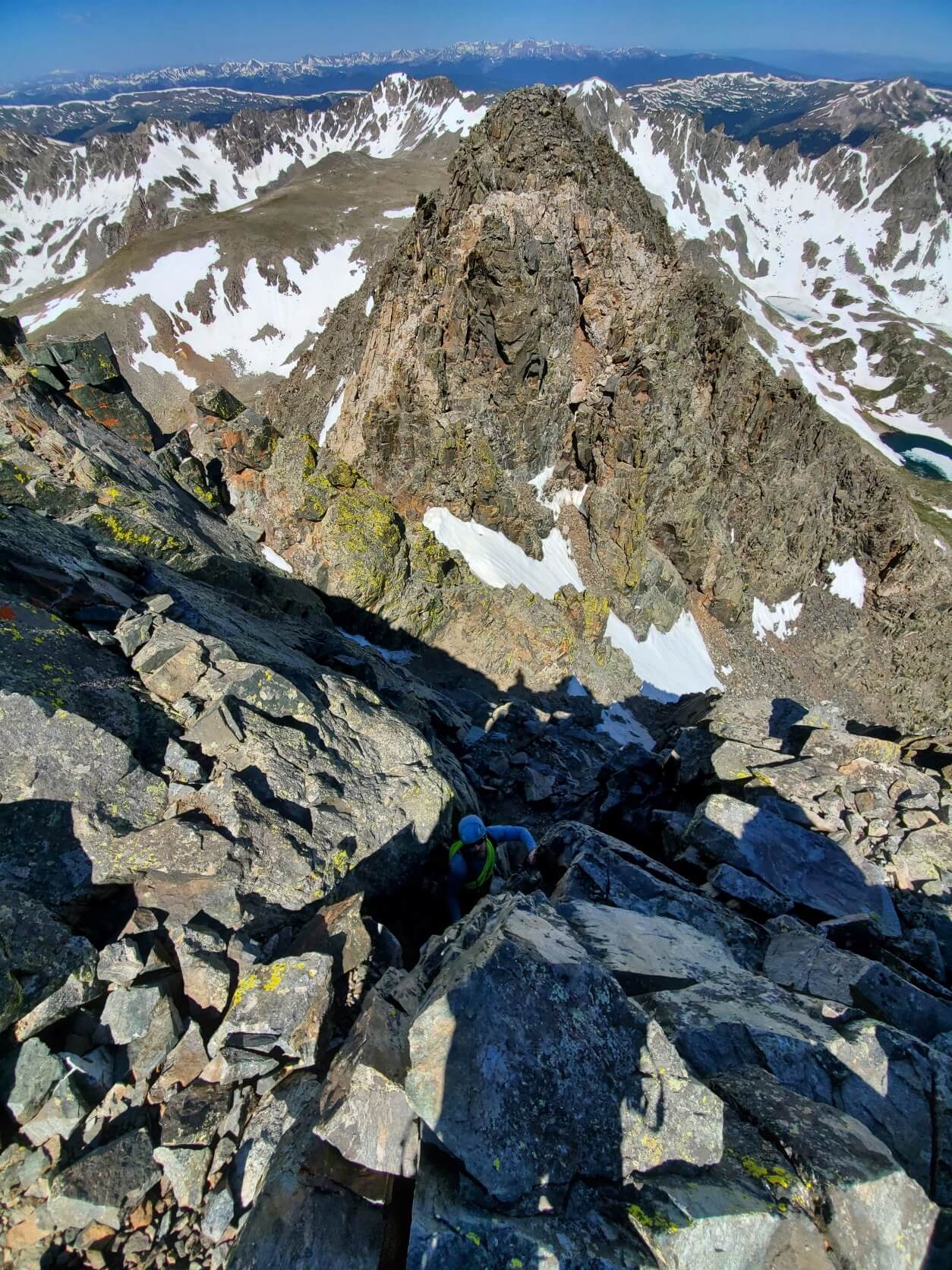 A Quandary Quagmire: Rescue at 14,000 feet
Author's Note:  In the time between beginning this story and finishing it, 3 people died while attempting to climb a 14er.  
"Remember, the journey is the destination. The goal is to come back alive, and better friends than when you left."        Bruce Tremper-Utah Avalanche Center
I get this question a lot:  "Why would someone need a guide on Quandary?"  It hear it mostly from my colleagues and other local adventurers.  On the other hand, I also hear THIS from potential guests: "Quandary is the easy 14er, right?"  Both of these questions are valid, yet relatively misinformed.  
You see, as a local resident of the high-country, we sleep and exercise at altitudes between 9,000 and 14,000 feet on a regular basis, better adapting our bodies to the altitude.  For the most part, mountain locals also have experience recreating in mountain environments, reading maps, reading weather, and they don fancy technical clothing which helps prepare them for the mountain climate.  But, when you see the number of rescues each year from local fourteeners, I think that alone should answer the first question.
Easy 14er?  Let's qualify this.  When I lived near the base of Quandary Peak, I often skied it in the morning before work, or walked my dog up it in the evening.  For many of us, it's just another mountain.  We have no attachment to reaching the summit.  We've likely achieved this many times and are happy to hike only a portion of it on a given day.  So, yes, for some people, it's an easy fourteener.  But, tell that to the members of our local search and rescue team who risk their lives to rescue the under-prepared and misinformed.  Those who began their hike at 10am, or didn't wear or carry appropriate clothing, or those who got their information from the internet, or those who let their goal of reaching the summit outweigh the common sense of turning around when the weather rolled in.  To answer the question, no, there is no easy 14er.  When something goes wrong in a mountain environment, the complication is multiplied.  It can take hours for rescuers to arrive and even longer to evacuate you or your friend or family member.
A few weeks ago, we were hired to accompany contest winners from KBCO on a hike of Quandary Peak.  We had four guides on site for the day, three of our regular guides and one guide in training.  Beside having intimate knowledge of the hiking trails of Summit County, all guides are highly experienced in wilderness medicine and take it pretty seriously.  Unlike a majority of Colorado mornings, this morning revealed no blue sky at all.  Full on grey-bird.  In fact, it resembled a typical day in the Pacific Northwest, socked in with fog and mist, complete milk bottle, and it was COLD.  I'd wager to say that the temperature never reached much higher than 40 degrees and a steady breeze out of the northwest felt like the moisture was sucking the heat out of your body as it passed.  It was one of the coldest days I can remember, winter included.  
We set out on the trail and we hadn't reached treeline before I was putting on every layer I was carrying.  Had I been carrying gloves, I would have put them on as well.  As we marched toward the summit in the cold fog, I noticed many hikers who had come unprepared for the current weather conditions.  I saw folks in t-shirts and short running shorts, waterlogged cotton hoodies, moisture laden wind layers, 8 liter backpacks that could barely fit a Nalgene bottle, exposed skin and soaked tennis shoes.  Each person I passed had their head down wearing miserable and demoralized expressions.  I remember saying to myself, "glad I decided to throw those extra layers in my pack."  
We continued on and I began to surveil our group more closely and more often.  I spoke to each person to make sure they were still alert and oriented.  I paid close attention to body language.  There was a frantic energy as other hikers looked up final pitch to the summit, shivering.  The top of the mountain wasn't visible.  It hadn't been at any point that morning.  I stopped to let the entire group pass, taking a count, and bringing up the tail in order to monitor the slower members of our group.  
About 200 feet below the summit, I passed a boy seated with his head down.  His family was around him trying to coordinate their group, some had gone to the top and some were turning back.  The boy was dressed in track pants, a cotton hoody, indoor soccer shoes and was soaked to the bone.  I passed the group and stopped just above them to observe.  My initial observations revealed an insulin pump in the boy's pocket and he was shivering vigorously as his body was trying to warm itself.  With these two signs of trouble, I decided to ask if I could intervene.  
The situation was hectic.  Almost everyone in their group was underdressed and underprepared  There were young children, other climbers with heads down pushing by, the wind picked up and it began to hail, it was chaos.  His family was feeding him sugar laden Clif Shots, focusing on his type 1 diabetes as the sole factor for his discomfort.  I could see he was in some pain, so I asked if it could be something more than low blood sugar.  So, I began my medical protocol.  I asked all the questions, physical exam, and applied a pulse oximeter.  His skin was cool and clammy, face pale, and his pulse ox was low.  My trainee and I began removing his cold, saturated, cotton layers and transferred warm, technical layers to him.  I had decided to carry our small oxygen tank that day and applied the oxygen mask on a low flow.  It was so chaotic, all I can remember is how cold my fingers were, unzipping and zipping, turning knobs on the regulator, and digging in my pack.  I spend a lot of time in the cold so I'm accustomed to working through it.  I can only imagine how he was feeling.
Once the color started coming back to his face and he felt strong enough to stand up, we hooked our arms under his armpits and started the hike down, whisking him over jagged rocks on the loose descent.  Getting him to move started the warming process and in about 45 minutes, he began to understand what was going on, and the tears began to flow.  We talked to him the entire walk down, reassuring him, trying to give him some confidence.  But, I think he was finally realizing the situation he had been in.  He didn't even want to be there in the first place.  He was pushed beyond his comfort level on a day when even the most seasoned mountain folk were having trouble finding comfort.  He was eventually able to walk on his own and we got to the parking lot about two hours after we began the descent.  
I thought a lot about this day in the weeks that followed.  A rescue is a peculiar thing.  I've gone over it again and again in my head.  There's questions.  Did I do everything right?  Was his life in danger?  What would have happened if we weren't there?  It's sure that rescue couldn't have flown the heli that day in that weather.  It would have taken two hours for SAR to arrive on foot from the time they would have received the call.  What would his situation have been at that point?  Most importantly, I ask myself, how can we prevent these situations in the future?  How do we address summit fever?
With a little mountain experience, you can learn how to manage objective hazards.  It could get cold…pack more layers.  It might rain…pack the rain gear.  The terrain is steep and loose…wear good boots, walk slow and steady, stay focused.  But, when you give yourself only one day to accomplish your goal of reaching the summit, you automatically create a subjective hazard.  You got up hours before the sun, you drove all the way here, you're going to summit today, nothing will stop you.  It's the human psyche that is responsible for most emergencies.  Even a lightning strike on the summit has a "human factor."  Why were you on the summit when there was a potential for lightning?
I think this story answers both of the questions.  Becoming a mountain adventurer should be a slow process.  Much of the education comes with experience.  Sure, we've all made mistakes in the mountains.  Some of them may have been more threatening to our lives than we even knew at the time.  Going out and not making the same mistake again is the important part.  As mountain guides, we plan for the worst and hope for the best.  But, we are prepared for every and any situation.  We didn't guess, we learned over time.  We sought out information and education, and took our time learning how to explore the backcountry safely.  As guides, we also love to pass on  this information to others.  Each time we accompany someone into the wilderness, we have the opportunity to share our experience and hopefully, the next time they venture out, the are equipped with the knowledge to do it safely.  So, does everyone need a guide?  No.  Is there an easy 14er?  Depends on who you are.  Either way, one takes a big risk in assuming.
For more reading on this topic, check out this Denver Post Article:
Colorado's five busiest search and rescue teams seeing increasing calls for help