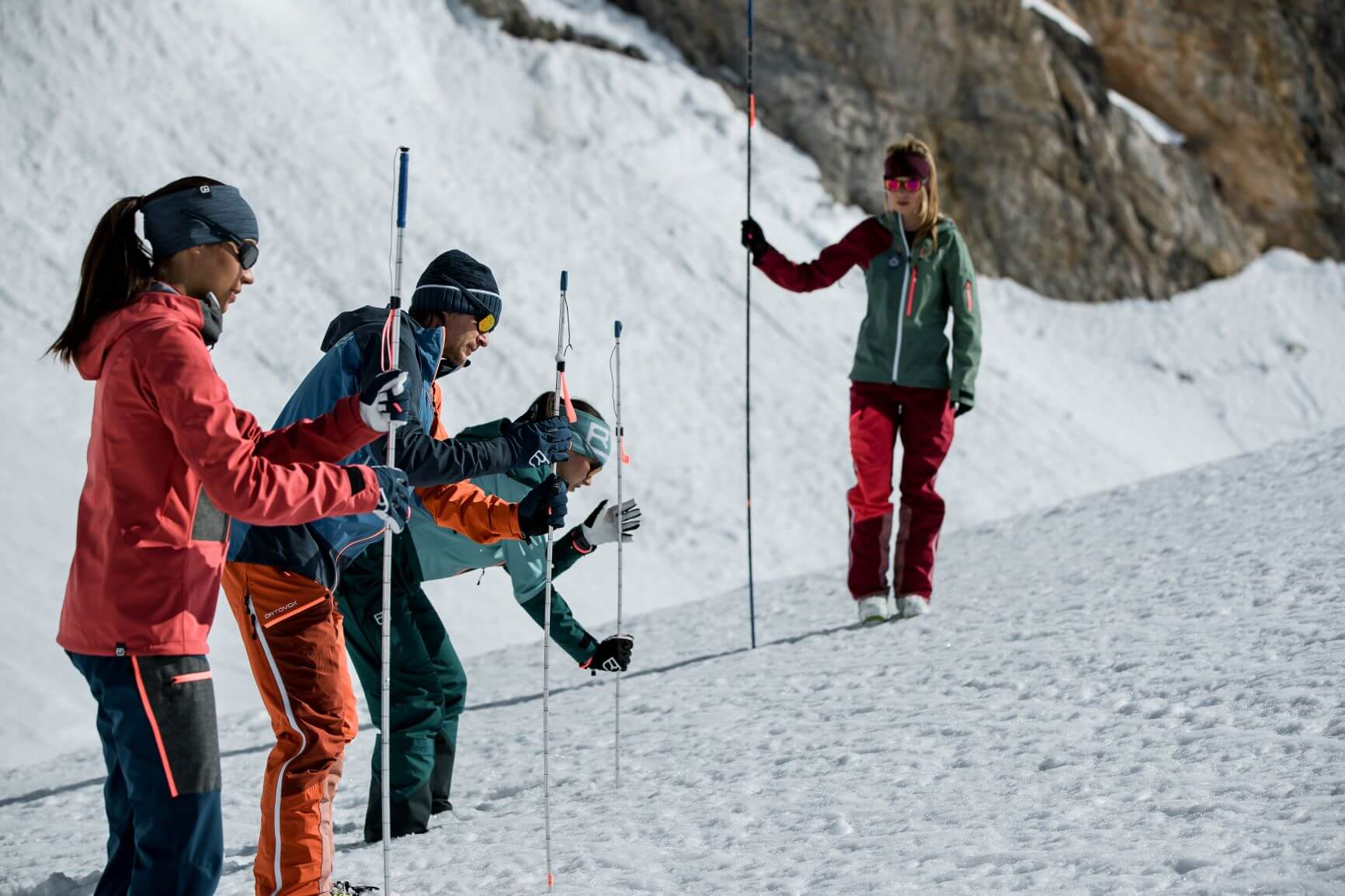 Why Should I Take An AIARE Course?
Why Should I Take an AIARE Course with Colorado Adventure Guides?
The growth of backcountry skiing and riding in recent years has been incredible. With the fantastic images that we see in ski movies and a backlash against the lines and crowds of resorts, more people than ever are starting to explore beyond the ski area. With that growth comes the risks that pertains to backcountry travel, and the need for quality education from local guides who live and work in the backcountry every day, and a highly reputable company with vast experience in the area.
With priority access in the Summit County area, and a wide span of teaching areas from Vail Pass to Loveland Pass and beyond, Colorado Adventure Guides builds its courses based around the best conditions over a wide variety of terrain. This in return helps to provide more comprehensive education for our students. There are numerous reasons to take an AIARE Avalanche Course with Colorado Adventure Guides, and here are the reasons that set us apart from the pack and make CAG a top leader within Colorado's backcountry education scene.
---
Trusted AIARE Avalanche Instructors in Colorado
---
We are about education not cost
Backcountry and Avalanche Education is an investment into a lifetime of new adventures and possibilities, and we recognize that there is a cost-factor involved, which is why we have a series of discounts for you to take advantage of. The value you are getting out of the course is instruction from highly passionate, experienced, and qualified instructors, sharing combined decades of backcountry experience and helping to gain the knowledge and confidence to take on your own backcountry adventures. In calculating a price that is fair to our students, we also offer several perks and discounts for our students to take advantage of. Groups, returning clients, locals of Summit, Eagle, and Park Counties, students who sign up for more than one course, and students who are continuing their education post Avalanche Level 1, all receive generous increasing discounts and perks for going through Colorado Adventure Guides.
We can provide gear rentals from top brands for use during the courses from our in house Backcountry Demo Center. When taking an avalanche course, many are not ready to make the investment into backcountry equipment or are not sure which equipment they should get. Colorado Adventure Guides is a proud partner of Ortovox Avalanche Equipment, DPS Skis, and Weston Splitboards, where we have a full demo center with this top of the line gear available during your course. So at the start of your backcountry life, you are supported with some of the best brand names in the industry. All students who take our Level 1, Avalanche Rescue, or Level 2 Courses are eligible for a FREE rental of an Ortovox avalanche safety package (Beacon, Shovel, and Probe) at no additional cost. Students also have discounted access to our demo center with DPS Skis and splitboards from Weston Backcountry, giving them access to the latest backcountry models. At the end of the course, students also are eligible for exclusive discounts on gear through our partners.
---
An inviting and diverse classroom
The backcountry community has an image problem that makes it look predominantly white and male and in recognizing this fact, we aim to create an environment that is diverse and welcoming to all genders and ethnicities. Our courses are led through a diverse range of instructors, including many women and people of color, and we aim to be what we want to see in our industry. Our goal is to open the backcountry to anybody and make it inclusive and welcoming in order to buck the image and trend that we are currently seeing.
---
Weekend and Weekday Courses Available
Having courses that are close to home and in a variety of timeframes is important, and we are varying our course schedules to make way for more weekday, weekend, hybrid courses, and more locations across the State. For the 2022/2023 season we are offering our in-person classrooms as well as virtual classrooms (the field days remain outside). The virtual classroom allows students to take Day 1 from the comfort of their own home and takes a potential day of lodging out of the mix.
We also run hut-based courses out of 4 different huts and the price includes the hut and some of the food. We are also partnering with Winter Park Resort, for a lift-assisted AIARE Level 1 that's closer to the Front Range. We're building a course schedule that's more friendly and accommodating to different schedules and locations.
---
We have the longevity and experience to give you a comprehensive experience
Colorado Adventure Guides has been operating in the Summit County Area since 1996 and has intimate knowledge of our snowpack, and terrain giving you firsthand beta on some of the most beloved mountains in Colorado. We'll learn about our unique geography and climate, helping you not only understand our local snowpack but also some of our favorite secret spots.
When you take a course with Colorado Adventure Guides, you're investing in a lifetime of adventure. While there are many AIARE Course Providers out there, we are the experts with the Summit County knowledge, and we strive on building a course and classroom that is accommodating for every person and schedule. We would love to have you in our courses this year.
---
Book an AIARE course with Colorado Adventure Guides today!
Our friendly reservation team is standing by to answer any questions and book your AIARE course with Colorado Adventure Guides. Book directly online or call today to reserve your spot.